Discover more from Hung Up
A newsletter about pop culture, music, movies, Succession, and Martin Scorsese not wearing his glasses anymore. Hung Up is essays, interviews, recommendations, reviews, gossip, line readings, love notes, cool stuff you want to share with your friends.
Over 80,000 subscribers
Hello! You are reading Hung Up, currently working from a remote birthday trip hideaway. Tomorrow the paid list will get a deep dive into my latest obsession: a way too close read of the SAG-AFTRA donators.
We are in the thick of it now: August.mp3, summer, leo season. There is nothing quite like the sit outside-laziness of August. You have nowhere to go and no one is waiting on you. The heat is oppressive, sticky and stinky, the very act of treating yourself to an overpriced lemonade from a charming barista is enough to pass the hours. There are too many degrees outside for jealousies, insecurities, edge control, Milk setting spray, closed-toe shoes. August makes you put on as little as possible to do as little as possible. You should smell, as my mom would say, like outside.
But let's say the time is running out on your marriage. Let's say you are Katy Perry and Orlando Bloom, or Harry and Meghan, or Emily Blunt and John Krasinksi or even Justin Timberlake and Jessica Biel (Timberlake, solo, is always just permanently on the cusp of divorce). There is no better time than the present to announce your divorce. Due to the slow news churn of summer, and the no press mandate of the SAG-AFTRA strikes, and the overwhelming number of other people getting divorced, you can announce a divorce now and not have to answer questions about it until you're sentenced to a 15 minute talk about a "new project" with Jimmy Fallon in the spring, and there is nothing Fallon has never been in complete support of. (Even, obviously, coiffing Trump's flesh-colored hair.)
Reese Witherspoon announced her divorce too early. Bill DeBlasio announced his divorce in the deluge of everyone else announcing their divorce, and had to do a separate New York Times interview to make sure we all saw it. If you announce your divorce now, there is a one hundred percent chance you will get the backseat to Ariana Grande and her Wickedly good time with the redheaded Broadway actor Ethan Slater. August is the monthlong Friday news dumps. You could announce your divorce now and be a trivia night question that has everyone stumped come October. ("Wait … they were married?") If you are in line to announce your divorce, stay in line.
Six Must Reads
"I Am Not The Villain" - Lizzo
Whenever the Notes app is opened, critical thinking has closed. Three former Lizzo tour dancers filed a lawsuit this week accusing the musician of managing a hostile work environment, sexual harassment, and false imprisonment (??!). The suit also names Lizzo's dance captain, Shirlene Quigley, as a defendant, alleging that Quigley singled out a plaintiff for her virginity, and another for being a "non-believer." Do even a cursory scroll of Quigley's Instagram and … yeah. 
A handful of other former Lizzo collaborators posted messages in support of the plaintiffs. The filmmaker Sophia Nahli Allison, who was hired to direct a documentary about Lizzo, said she quit after two weeks because of the star's behavior. "I was treated with such disrespect by her," Allison wrote. "I witnessed how arrogant, self-centered, and unkind she is." Quinn Wilson, Lizzo's former creative director, posted something similar: "I haven't been a part of that world for around three years, for a reason. I very much applaud the dancers courage to bring this to light. and I grieve parts of my own experience." Has Beyoncé already made her mind up? She repeated Erykah Badu's name in place of Lizzo's while performing the remix of "Break My Soul" during a Renaissance tour performance.
On Thursday, Lizzo released a statement responding to the allegations. "I am not the villain that people and the media have portrayed me to be these last few days," she wrote. "I am very open with my sexuality and expressing myself but I cannot accept or allow people to use that openness to make me out to be something I am not."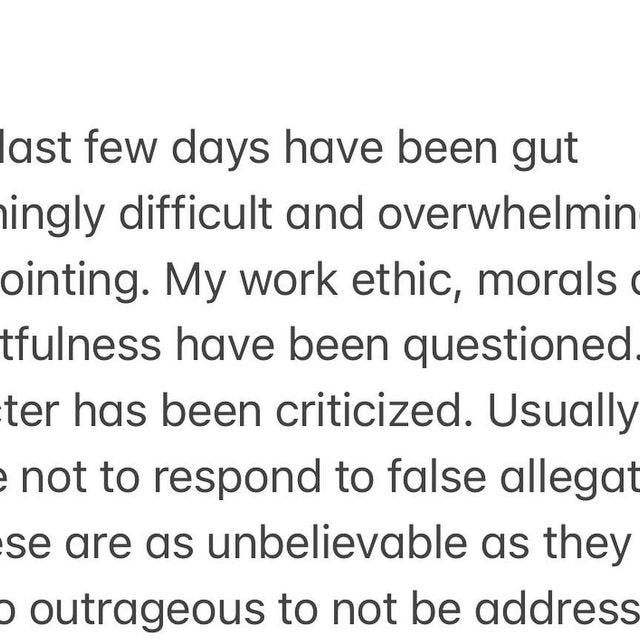 I did a story on celebrity apologies for Vice a few summers ago, and the biggest takeaway from my reporting was that most celebrity Notes app statements are written by talent and not vetted by a professional. That looks to be the case with this one — this statement is too long and incoherent, even for "apologies" that legally need to avoid liability. Saying you are not the villain is something a villain would say!
Merriam Webster Pageviews For Myopic Going 📈
The Canadian actor Stephen Amell, not particularly famous or notable, criticized the SAG-AFTRA strike over the weekend. His critique wasn't for any of the reasons the union is on strike — better pay and protections for its membership — but kinda just based on vibes? 
"I think it is a reductive negotiating tactic, and I find the entire thing incredibly frustrating. And I think the thinking as it pertains to shows like the show that I'm on, that premiered last night, I think it's myopic," Amell told an audience at something called GalaxyCon. My favorite part of this is the subtle reminder that he's on a show and that show premiered last night.
Stephen Amell on Instagram: "Understandably, there has been a lot of reaction to the comments I made this weekend about our strike. To ensure there is no misunderstanding about my thoughts and intentions I'm providing what I actually said and clarity/context to ensure my feelings aren't unintentionally misinterpreted. We all know soundbites can be taken out of context and I have too much respect for my fellow union members to not clarify the record. What I actually said: 1 "I support my union, I do, and I stand with them." This doesn't need much clarity: My support is unconditional and I stand with them. What I actually said: 2 "I do not support striking, I don't." What this means in full context: I understand fundamentally why we're here. My off the cuff use of the word "support" is clearly contradictory to my true feelings and my emphatic statement that I stand with my union. Of course I don't like striking. Nobody does. But we have to do what we have to do. What I said 3 "I think that it is a reductive negotiating tactic and I find the entire thing incredibly frustrating." In full context: I'm an actor and I was speaking extemporaneously for over an hour. I emote, but I certainly don't think these issues are simple. Our leadership has an incredibly complicated job and I am grateful for all that they do. Despite some of my terrible early acting work, I assure you, I'm not a robot. From an intellectual perspective, I understand why we are striking, but that doesn't mean it isn't emotionally frustrating on many levels for all involved. Continued in the comments —"
On Wednesday, after Amell went viral for being the only actor to support the AMPTP, he admitted that he has no idea what he's talking about. "What I said: 'I think that it is a reductive negotiating tactic and I find the entire thing incredibly frustrating.' In full context: I'm an actor and I was speaking extemporaneously for over an hour. I emote, but I certainly don't think these issues are simple." I'm an actor but I spoke for an hour without a script so what do you expect really is a hilarious sentence and a ringing endorsement for the WGA!
I have not really been in a rush to see Oppenheimer, but considering the fact that we are not one nation under God but one nation under men using Tom Ford bronzer, my ass will be in an IMAX seat at 8:40 a.m. Tuesday morning.
That's all this week! Thank you for reading. This week I rewatched a season and a half of Girls and Jemima Kirke is making a strong case for me to continue:
Bye!