Discover more from Hung Up
A newsletter about pop culture, music, movies, Succession, and Martin Scorsese not wearing his glasses anymore. Hung Up is essays, interviews, recommendations, reviews, gossip, line readings, love notes, cool stuff you want to share with your friends.
Over 77,000 subscribers
We are in 25th month of no Renaissance album visuals, but Beyoncé's reasoning — "you are the visual, baby" — was fully realized this week when Zendaya, Ayo Edebri, and Quinta Brunson strode (strided?) into the B'Day show. 
Tiktok failed to load.
Enable 3rd party cookies or use another browser
But the pervading image from the night was the confirmation that Timothée Chalamet and Kylie Jenner are dating, or at least kissing publicly. The normal reaction to this couple making out at Monday night's Renaissance World Tour is that "hard launching at a beyonce concert is crazy." A not-normal reaction to Timothée Chalamet and Kylie Jenner making out at the Renaissance World Tour is distress? Panic? Conspiracy theory?
Nothing has been as delirium-inducing this week as mainlining every piece of information about Club Chalamet, the Timothée Chalamet fan account that has made a five-alarm fire of confirmation of Chalamet and Jenner's romance. "If you're feeling distressed by the video, it's ok. But please take care of yourself. Step away from social media for a couple of days," the account posted on IG, with a caption reminding readers that "this too shall pass."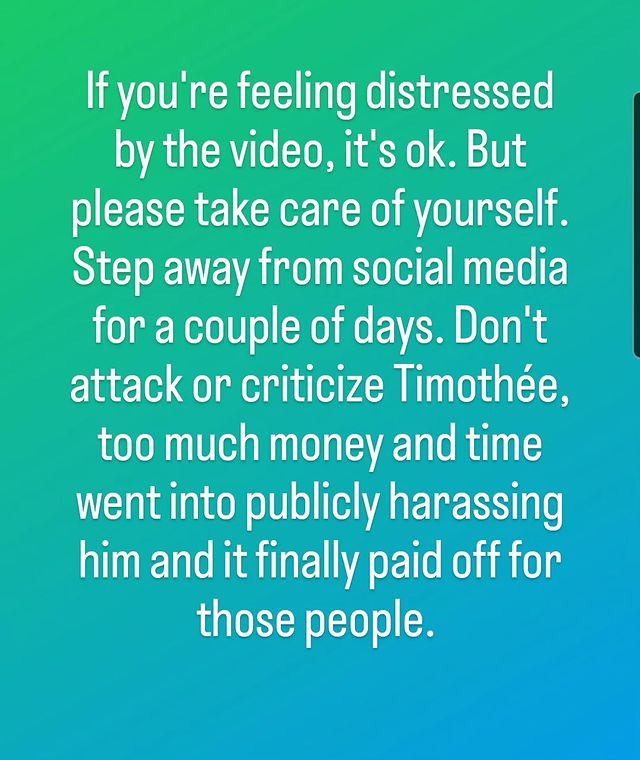 Madam Club Chalamet (her real name is Simone something) has such lore! She met the titular Chalamet at Coachella, but he spurned her at a Beautiful Boy event. She called out the WGA and SAG-AFTRA strikes for delaying Dune. When her message of solidarity (?) went viral for its absurdity, she convened a Twitter Space that I have listened to three times in a fugue state. I will not be baited into reading some random thinkpiece about parasocial relationships, but there is something fascinating about the droll city council hearing-energy of Club Chalamet's Twitter Space. This is the analysis of a Timothée Chalamet, um, scholar: "Number one, he's smoking. I knew he smoked, and I have no problem with that. I don't smoke, I think it's unhealthy. There he is smoking. I've been to SoFi, I've been to concerts in southern California, you're not supposed to smoke in a public building," she said. "He looked very nervous. I know that people smoke to calm their nerves, so it's my assessment that he smoked to calm his nerves. He was there to do what he had to do … the whole situation was very nerve-wracking for him." 
On the one hand this is just a random lady. But on the other hand am I supposed to scroll past a woman demanding to know why Kylie Jenner and Timothée Chalamet have not gone to Olive Garden since he loves Italian food??
That space has a play count of 180,000 listens, if Twitter's numbers are to be trusted. (Probably not.) But what a strange, fascinating reaction from a fan who appears to be mad a Chalamet, supportive of Chalamet, and also 57 years old. "I'm really happy there are people listening to the Spaces tonight who think this is really funny, because I see you. I know you think this is funny. People like you like to see this kind of chaos in fandoms because that's what turns you on. You're trolls in nature," Club Chalamet concluded. "You have some kind of psychopathy, you enjoy seeing people be upset that we really can't control. And it really is a thing that's funny, because once this Spaces ends I'm going to go ahead and cook, and take a shower, finish packing my suitcase to take my ass to Toronto for five and a half days and see some awesome films while you people sit home eating your peanut butter sandwiches." Gagged me a bit ngl … 
Must-reads
On Thursday, the actor Danny Masterson was sentenced to 30 years in prison for raping two women in 2003. There is something so chilling and insidious about Ashton Kutcher and Mila Kunis posting AirBnB spon just as their letters in support of a lesser sentence for Masterson were made public.
From Kutcher's: "My name is Ashton Kutcher I am an actor, investor, philanthropist, and most importantly a father…"
New Most Divorce Man Just Dropped
The summer of divorce isn't done: Sophie Turner and Joe Jonas are the latest to announce their separation, after four years and two children together.
TMZ was the first to report that Jonas retained divorce lawyers; two days later People reported that Jonas's divorce filing claimed "the marriage between the parties is irretrievably broken." A steady stream of leaks followed: Joe Jonas "saw something on a Ring camera" that made him end the marriage (TMZ), he "has been caring for their 2 young children pretty much all of the time,'" even while working if you can believe that (TMZ again), he was papped bravely dining with his daughters amidst the split (Page Six).
In this, the summer of divorce, Divorced Men have had a hard time winning the media narrative. Ariana Grande's new man just doesn't have that dog in him; the drip of Kevin Costner divorce news is glacial. But Jonas has revived the traditional divorce action plan: unflattering stories, being photographed with the kids, acting aggrieved. This is Divorced Hollywood Man 101, the Divorced Hollywood Man archetype.
But Turner has only commented via the couple's (poorly written) joint statement, which says the dissolution was mutual. "There are many speculative narratives as to why," they say, "but truly this is a united decision and we sincerely hope that everyone can respect our wishes for privacy for us and our children." 
Turner's silence says more (and better) than the continued leaks from Jonas or those around him. Who in their right mind would think this deluge of stories would work? And something about the specificity of naming the brand of surveillance camera is creepy.
That's all this week! Thank you for reading. I must share Remy's daycare report card today which reported that she "had a big time Crush." Have a good weekend!